Karen
By Kent Whitaker Summer grilling is a fantastic opportunity to expand your grilling repartee beyond traditional meats, veggies, and hotdogs. [...]
Karen
Wow, these really look good, Leave it to the pit boys to come up with a mixture of spare ribs [...]
Have you ever taken a bite of something and wondered what spices were used to season it? In the world of barbecue and grilling spice combinations are called rubs because the mixture of spices is rubbed into the meat. I get several emails a year asking about making rubs and how to find combinations for different flavors.
The simple answer is that rubs are whatever you want. Heck – salt and pepper is a rub! But, for developing certain flavors combinations it's probably a good idea to do some research on the spices you like in your favorite dishes.
For example, if you want an Asian inspired rub then research oriental spices and Korean barbecue. Tex-Mex rubs include spices found in South of the border cooking. The same goes for Greek and Mediterranean cooking, Italian foods etc. If you like that "flavor" learn the basic spices associated with that style of cooking and start playing with spice combinations.
Or, you can cheat! More on that below. Here's a few things to keep in mind when developing your own spice combinations – AKA, rubs!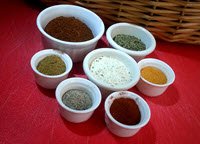 Add Before Long before Cooking
The secret to using a spice rub on any meat is getting a head start. I apply my rib rub on my ribs a day before they hit the smoker. This allows the spices to dissolve as the meat soaks up the flavor. At the very least, apply your rub several minutes before cooking. Allow the rub to turn from dry to moist – you'll see a notable difference over the course of ten to thirty minutes. If you plan on more than a few minutes, then cover and place in the fridge.
But don't go crazy with the above suggestion when it comes to delicate items like seafood. A few minutes to allow the seasoning to sink in will be perfect.
Watch the Sugar and Salt!
Going healthy is a great thing when you start mixing up your own batches of rubs. Don't get me wrong – you can add a pinch of salt – just don't go overboard. Avoid doubling up on sodium when you use salt and then another ingredient such as Garlic Salt. Suddenly you have double the salt!
I include dashes of brown sugar, and even table sugar, in several of my rubs and seasoning blends. However – if you use a lot of sugar in your mix and heat things up too quickly you could end up with a bitter taste if the sugars burn. That's why sweet rubs are associated with barbecue that's cooked low and slow.
Adapt from other Recipes
There are countless recipes for rubs available for you to try. My suggestion is to start small with a recipe borrowed from another dish. For instance – You have a recipe for seasoned potatoes that has a great seasoning blend. You think that flavor would translate perfectly to pork chops or chicken. Go for it!
That basic recipe is your base for your secret seasoning blend. Start from there and tweak as you go. I suggest that you start with small batches, less than 1/2 cup. If you don't like the way the rub turned out then you didn't waste a whole bunch of spices.
Mix, Cover, Store Dry
When you start playing around with making your own rubs you should be prepared to keep things dry. Once mixed, store in a dry container in a cool dark place away from moisture. Your blend of seasonings will not have the additives needed to fight off clumping cause by dampness. This will increase the shelf life of your seasoning blends and rubs.
Well, the dry thing is if you want to use your blend as a rub. However – don't discount the idea of adding a spoonful of moisture such as water or oil. Your "dry" rub is now a "wet" rub! Think of it as a seasoning paste!
You Can Cheat!
If you're making a dish for the first time and you're short on time then take a peak in your pantry. Say you need a Tex-Mex based rub for a Southwest beef rib or brisket recipe. Why not grab a packet of taco, fajita, or southwest seasoning mix? You know – the kind you pour into ground beef when making a batch of tacos or nachos!
Easy flavor in a pinch! You can also adopt some of those packets into your larger seasoning blends.
Kent's Basic Dry Rub
This is one of the recipes I used while working with Pabst Blue Ribbon and TimberTech and a version of it was featured in my Texas Hometown Cookbook. Feel free to change around as your pantry and available ingredients allow.
1 tablespoon paprika
1 tablespoon cumin
1 tablespoon chili powder
1 tablespoon garlic powder
1 tablespoon onion flakes
(1/2 tablespoon if using onion powder)
1 tablespoon brown sugar
1/2 tablespoon salt
1/2 tablespoon black pepper
1 teaspoon cayenne pepper if desired
Directions:
Mix all of the ingredients in a clean and dry mason jar doubling the amounts as needed. You can also use an empty spice shaker. Rubs can be considered a dry marinade. Leave on for at least thirty minutes before cooking.
For many dishes I rub the meat the day before which allows the spices to be soaked into the meat.
*****************************************************************************************
Kent Whitaker, also known as "The Deck Chef," is a culinary writer and cookbook author. He's also penned Young Reader and History titles. The former winner of the Emeril Live Food Network Barbecue Contest also covers football, motorsports, and bass fishing. Kent currently lives in East Tennessee with his wife, son, and a couple of dogs that love when he fires up the smoker or grill.