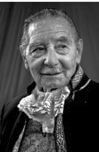 Ciao:
I'm happy to report that the patriarch of the Zoppé Family, Alberto Zoppé, will be inducted in Sarasota's Circus Ring of Fame at St. Armands Circle Park on January 21, 2007. Although I'm highly biased, I believe the honor is well deserved.
Alberto, born in 1922, was raised in Italy with his family's "Circo Zoppé." Like most circus kids, he was schooled in all the circus arts. However, the skill at which he excelled and loved the most was bareback horse riding. Eventually, Alberto developed a large riding act that included many unique features such as a double back-somersault from one horse to another.
In 1940, Alberto took over the management of Circo Zoppé and later in the decade worked with other family members to design the first 4-pole cupola-style tent. Alberto, along with his sister and adopted cousin Cucciolo, immigrated from Italy in 1948 to be the featured bareback riding act on John Ringling North's "Ringling Bros. and Barnum & Bailey Circus." While there, Alberto and Cucciolo appeared by name in Cecil B. DeMille's movie "The Greatest Show On Earth."
After leaving Ringling, Alberto and his riding act were featured at one time or another by virtually every major American circus, although from the late 1950s on, a serious injury curtailed the more athletic portions of the act. During the 1970s, Alberto operated "Circus Italia," which played small venues such as shopping centers. In the 1980s and 1990s, Alberto turned his focus to the Shrine Circus market and operated under the name "Zoppé Circus Europa." Also during this period, Alberto produced "Circo Zoppé Europa," a stage show that featured the circus arts, including those with animals.
In recent years, Alberto has been touring with "Zoppé. An Italian Family Circus," a show run by a new generation of Zoppé family members. Alberto was twice married, first to Jenny Wallenda and currently to Sandra Taylor, and the resulting sons and daughters are among today's brightest circus stars.
Please join us on January 21 in Sarasota for Alberto's induction.
For more detailed information about the ceremony, please call me at 773-255-6788.
Giovanni Zoppé