by Kent Whitaker
I grew up in Nashville, Tennessee and often visited the Tennessee State Fairgrounds for events including NASCAR racing. Stock car racing has had a long history with fair grounds and it continues to this day. The Fairgrounds in the Music City still host several races at the track yearly with visits from sanctioning bodies such as the ARCA Racing Series.
NASCAR is a sport that ties in perfectly with home town fans and it has the history to go along with the thrill of racing! Back in the day, during Prohibition, booze runners used their modified cars to outrun authorities from the local police to Federal Tax officers. Naturally, when you have a select group of people that can drive fast and have a competitive nature – some sort of contest is going to take place.
Since they were driving fast cars to out run the authorities the chance to claim bragging rights came from winning informal races. Those races began to become popular and drivers outside of the moonshine industry started joining in. Soon, regional tracks were hosting stock car races across the south. A driver could drive his car from the house, paint a number on the side, race and hopefully collect a few dollars in winning without damaging his car.
Modern NASCAR Racing
Back in the 1940's Bill France, the founder of NASCAR, saw the need for a more organized form of sport of stock car racing. He proposed a legitimate sanctioning body that would set specific rules. At the time, it was a common practice for a promoter to skip out with the money made from selling tickets without paying the drivers. And, there were little or no rules governing cars or track safety.
France, also known as Big Bill, organized a meeting of drivers, car owners, mechanics and other people involved in racing at the Streamline Hotel in Daytona Beach, Fla., on December 14, 1947. This marks the official date that the National Association for Stock Car Auto Racing, now known simply as NASCAR, was born. On February 15, 1948, about two months after the meeting, became the winner of the first sanctioned NASCAR race which took place on the beach in Daytona.
France went on to incorporate NASCAR and the France family has held its leadership ever since. The sanctioning body is recognized as the worlds leader in stock car racing as well as other forms of racing including the International Motor Sports Association known as IMSA. In the spring of 2018 it was announced that NASCAR had purchased the ARCA Racing series as well.
Nothing Stock in a Stock Car
The sport of stock car racing was born from drivers using their everyday vehicle for racing, but times have changed. There's a saying in stock car racing, "there's nothing stock in a stock car," that's been true for many years. And that's a good thing when it comes to safety.
Modern NASCAR cars have complex safety features mandated by rules geared towards keeping driver out of harms way. These include structural frames/chassis designed to absorb shock during wrecks. Roll cages, padding, head and neck restraints, specialize harnesses and even fire suppression systems.
Now every sanctioned track that NASCAR holds races on is required to have "SAFER" barriers built into the track walls. These "Steel and Form Energy Reduction" barriers are designed to absorb the energy of a car hitting them. They are much safer than walls made of concrete.
Still Racing at the Fairgrounds!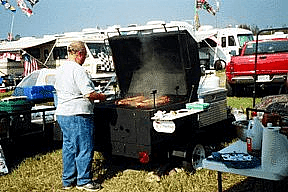 The sport of NASCAR has mostly grown out of the smaller fairground tracks that once hosted races across the country. But, many of those tracks are sanctioned "home" tracks under the official NASCAR banner and serve as facilities where young drivers can learn the art of racing alongside regional seasoned veterans.
And, the ARCA Racing series still runs races at the Nashville Fairgrounds, the Illinois State Fairgrounds and the DuQuoin State Fairgrounds. There's even speculation that one of the three top-tier series under the NASCAR banner, Camping World Truck – Xfinity Series – NASCAR Cup Series, could make a return to the music city in the future.
So, next time you drive by a fairground facility that has a race track with an event scheduled, make sure you pull in for some good old-fashioned racing. Who knows – you might see on of the sports future stars.