By Kent Whitaker
Football season is here! Highschool, College and the National Football League are kicking off. And, when you ask a cookbook writer what the most important part of the game is – you're probably not going to hear "Defense" or "Offense" when I make my picks. What you may hear me talk about its tailgating!
In case you're not familiar with the term – tailgating is when fans of a sport come early, set up grills, cook some great food, play games, probably consume adult beverages, and then make their way into the event.
But, the fun is not only relegated to football, NASCAR and other sporting events. Musician Jimmy Buffet is known for his style of tropical inspired music as well as the daylong parties that take place in the parking lots of his concerts.
One of the most popular items to grill are hotdogs when it comes to tailgating. The reason being is that hot dogs are cheap, easy to cook, require only small grills, and can feed a crowd. But, if you get bored with hotdogs there are some alternatives. The bratwurst is a given, tasty and becoming as common as dogs! – so I'm including those meaty links in with hotdogs just for this article.
Here' three great hotdog/bratwurst alternatives for your tailgate this football season. These are great for if you're grilling at the game or just enjoying it on TV in your back yard.
KNOCKWURST
Ok, I admit that I tried to throw you off with the bratwurst comments above. But this sausage cousin to the Bratwurst is worth tossing on the grill! The knockwurst combines spices, garlic, veal and pork for a very easy to find sausage selection. The major generic difference between the two is the the knockwurst is often not as spicy as a bratwurst. That makes it amazing for a wide variety of toppings. And, of course bring on the sauerkraut, the grilled onions, and some serious mustard. If you're bold – make up a batch of horseradish infused beer cheese for a drizzle!
CHORIZO
A crowd favorite with Argentine and Spanish roots! This wonderful link is making serious inroads into the tailgate world. Bold flavor, meaty texture, a wide variety of cooking options make the Chorizo a winner with your grilling guests! You can choose from a slightly spicy version to an "GOOD HEAVENS HAND ME A BEER" version – and everything in between! Grill slowly and allow some of the excess grease to drip off but don't overcook them so that they turn into leather in a casing! Serve hot on a bun, deli roll, or even a toasted flour tortilla and corn salsa!
LOUKANIKO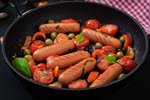 Let's turn our tailgate attention to this flavor packed sausage that's a great change of pace for boring tailgates. What's great about these Greek style sausages is that they range from bold to mild with spices  echoing Mediterranean flavors. Here's a few: fennel seed, thyme, coriander, or zesty orange peel. Slice some red onions, lightly toasted, toss some tomatoes in the oven and roast those! Sprinkle with garlic and drizzle with olive oil! Or, toss all of that onto some fresh bread, or serve with a nice Greek style sauce, maybe stuffed into a pita bread, or over lightly roasted veggies.
AUTHOR BIO: Kent Whitaker is a culinary writer, cookbook author, recipient of the American Authors Association Gold Medal for a Culinary Title, and former winner of the Food Network / Emeril Live Barbecue Contest. His books include barbecue and grilling books, seven titles in the Hometown Cookbook series, three history titles including Talladega Superspeedway, USS Alabama, and several books for kids. thedeckchef@hotmai
Karen
Have you ever taken a bite of something and wondered what spices were used to season it? In the world of barbecue and grilling spice combinations are called rubs because the mixture of […]
Karen
By Kent Whitaker
Have you ever eaten a shrunken head with melted Colby and Pepper Jack cheese? Who says that Halloween is just for handing out candy […]
Karen
By Kent Whitaker
Summer grilling is a fantastic opportunity to expand your grilling repartee beyond traditional meats, veggies, and hotdogs. Why not look towards the fruit bowl in your kitchen for some inspiration. There are a […]